I raise Engineering Leaders.
Setting you up
for success.  
Hi, I'm Marian. I'm an ex-VP of Engineering
&&
I serve as Engineering Leadership mentor.
I started coding
at age 11. I progressed from a dev role to a team lead to a principal architect.
I naturally transitioned into management to make a more significant impact through leadership, leading dozens of teams to the top.
I have extensive
experience
in engineering, encompassing all its amusing and challenging nuances in
various situations
, from
growing individual leaders
I'll rely upon, up to designing the
delivery flow
and
growing
the teams.
Explore my engineering leadership journey 
You're looking for a partner in crime who will help you grow your team(s) and validate your thoughts. Somebody who's been there, knows how it feels and will set you up for success on the timeline.
You want to gain trust, stand on both feet, and move away from operational pressure to thinking systematically / strategically.
RAISE ENGINEERING LEADERS TO GROW AND DO PRODUCT BETTER.
I advise/help companies to boost their engineering org ecosystem to build products better.
If you're intrigued to succeed in a specific company-wide topic (OKRs, product-led, reorg, hiring pipeline, efficiency, agility..), see the advisory case studies:

So far, I have run ~ 175 mentoring sessions, helping 55+ exclusive mentees
from 7+ countries
in their engineering leadership journey. Read the reviews.
Marian helped me a lot in my beginnings as a manager. He designed a company-wide program for beginning managers at Mews which in my view makes Mews one of the best companies for managers where to start. He helped me to avoid many initial mistakes and gave a lot of useful advices for the future.
Marian is a true leader with human approach worth following. Thank you!
Marian has been incredibly helpful in my professional development. In my conversations with him, he helped me transition from an operational role to a more strategic one. He not only showed me how to grow a team, but also emphasized the importance of understanding the "why" behind it. In each session, he provided me with practical tips and recommendations for tools and other valuable resources.

Marian has a wealth of knowledge and experience, and is always willing to share it with others. I highly recommend him as a mentor to anyone looking to improve their leadership and management skills.
Create the right communication channels and  open delivery & quality reports.
Define the trajectory. Keep the vector direction and stick to it, unless the strategy changes.
Teach and grow others by delegating. Walk the walk. Learn continuously.
Discuss improvements, not status updates. Limit the number of parallel streams.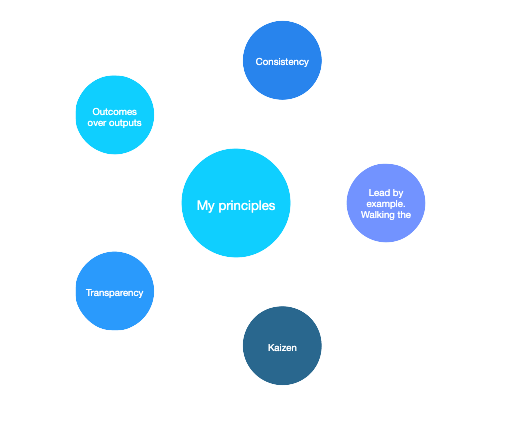 We'll survive the growth only if we create the right foundation based on leaders worth following. Processes will not save the world.
Ensure there is a live product and technical strategy people refer to. Connect the dots between the vision, mission, strategy, initiatives, and epics, up to developers' tasks.
Work in trios: product lead & engineering lead & design lead. Close the gap between product and engineering discovery and delivery. Build trust and assign autonomy.
We have people compatible with our principles: be it company principles, technical or product principles. Build an environment where people are safe if they follow the principles.
Talent attracts talent. Build your brand and the hiring pipeline. Work with community management. Engage people to blog posting, meetups, speaking, hackatons, conferences, and more. Cooperate with your talent acquisition team.
Guarantee the contract of delivering 80+% of the roadmap. Average companies deliver ~ 50-60% of their goals. Gain a competitive advantage by having efficient teams.
My mission is to help SW companies and individuals reach a new level of leadership and product development efficiency, making them succeed faster than anticipated. So how do I make it?



I dedicate 2 days a week to mentoring, covering 6-8 intense sessions weekly.


I spend additional 2 days a week helping companies make giant leaps enclosed by a dedicated tiger team.
1 day a week goes to sport
and social presence, be it blog posting
, meetups, podcasts or speaking at conferences
.