🚀 Take off
Life is fun! Joining a new company in April 2020 couldn't have been easier: The Prague HQ office got closed due to the virus whose name we shall not mention. That said, all my individual introductions with engineers, team leads, my peers, and the leadership board were done remotely, video only. How can I build a relationship with my folks in such a situation? Is it going to work? I was doubtful, as I knew building trust was going to be essential.
During the initial 2 months, I invested most of the time getting to know the culture, people, environment, and processes. That turned out pretty good, helping me to find out what works well, what needed to be improved, what the quick wins could be achieved, and which "big stones" required pushing through.
⭐️ Mission
All in all, after 2 months, I was ready to publish my internal audit and formulate my mission streams: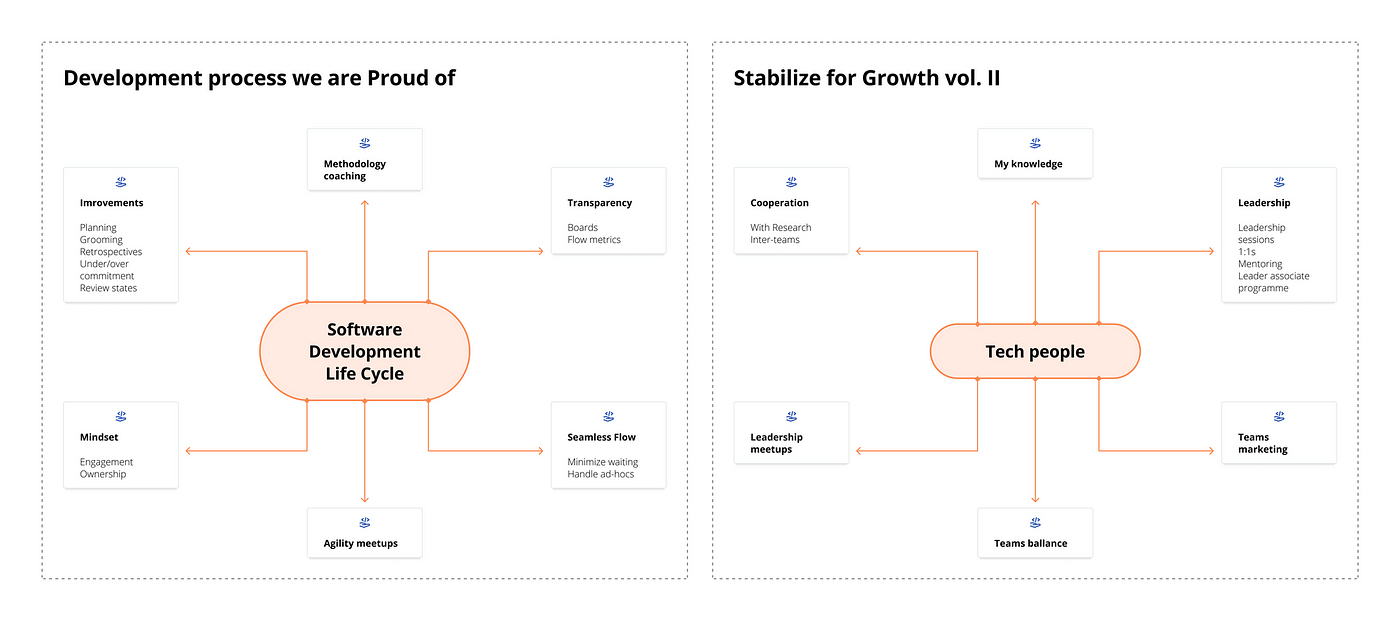 🎯 Stream #1: Tech department scalability
By the time I joined Mews, the company's business domain was hit heavily by Covid and some of the people were laid off. Despite these circumstances, we decided to invest in potential future growth by stabilizing the teams and preparing the future team leads. In 2021, as it turned out, we've been handling the situation pretty well as a company and our bet paid off. As a result, we have chosen to grow our tech department from 60 to 100 by the end of 2021.
Having said that, we decided to make our structure more robust, ready for the upcoming growth:
Above all, we enforced the notion of product-oriented teams by making our org chart formally cross-functional. Thus, we lowered down the amount of dependencies across the teams and made them aligned with the product goals.
The leaders of our teams are the leaders worth following. It is the continuous involvement during our 1:1s, internal mentoring and external PlatoHQ sessions, personal development plans, and guidance in various situation resolutions. We plan to introduce the Tech Lead Associate programme, helping the chosen engineers through the transition to people leader role.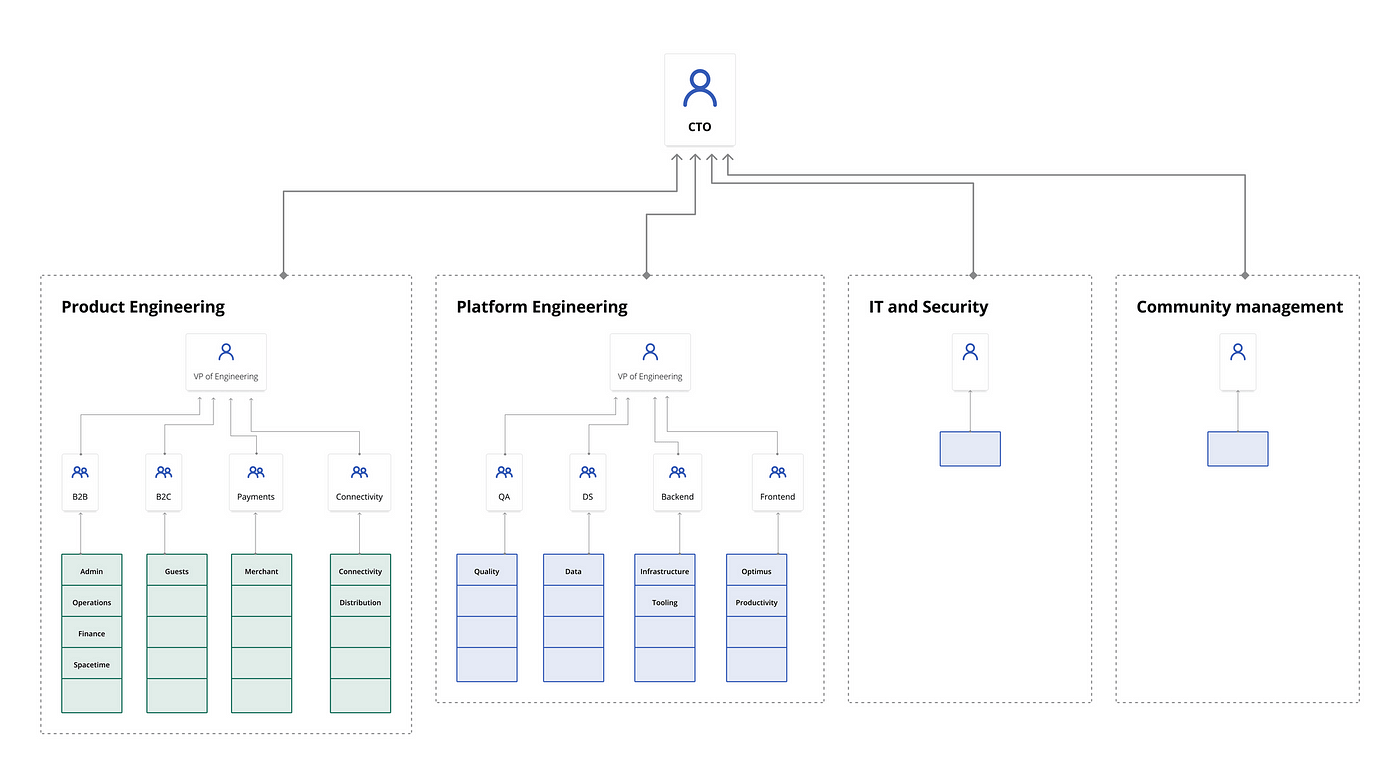 We ended up building a hiring strategy, reflected in a timeline that shows us which teams to boost or split. In parallel, we strengthened our hiring pipeline, involving more hiring agencies across Europe.
If you plan to boost your hiring process and get involved in examinations, get ready to allocate roughly 40% of your capacity, as interviews require constant focus and are exhausting. No one was born with the ability to lead interviews. Having an interview guideline is great, but not sufficient. To make sure we keep high-quality standards and new starters' aligned with our Culture and Values, the team leads must observe and learn how to facilitate interviews, how to set the right atmosphere and how to close the deal. These are the key topics that tell us the most. Over time, the team leads are getting more proficient at interviewing the candidates so I can fully hand over the hiring journey to them.
Finding the right team balance is essential. With the hiring, there is also a flip side in firing. Leading multiple teams, I am the one helping them to make a quick decision if the initial months are not going as well as expected. That is why I do an open check after the first and before the third month end with all the newbies.
At this point, in June 2021, we are at a headcount of 77, with 8 people signed up.
🎯 Stream #2: Boost the software delivery
My ambition is to create efficient guidelines that the teams benefit from and are proud to work in. The outcome is to make 4/5 of incoming requests flow seamlessly through the development pipeline. Taking care of the remaining 20% gives us comfortably enough time and space for learning, making improvements, as opposed to constant firefighting.

At Mews, the Scrum methodology had been introduced and followed. Therefore, I didn't have to start from scratch. I decided to make my initial additions simple:
Using analytics visualization on top of the ticket data flow, I introduced a high level of openness across the company. The teams, the departments and the leadership now has real-time data about all the features' progress and teams' efficiency. Ultimately, this step raised trust levels in the tech department as a whole. Furthermore, we were able to identify our bottlenecks and observe improvement impact. After 4 months, we improved the sprint completion by 30% and decreased the average ticket cycle time by 36%, without cannibalizing the throughput.
We asked the teams and individual contributors to focus most of their effort on the roadmap-related tasks, combined with capping the amount of different parallel initiatives by WIP (Work In Progress) limit. The outcome? Teams deliver 80% of initiatives related to OKRs. The beauty of it is, our teams are well respected, which is reflected in their satisfaction and stability.
We improved several Scrum meeting ceremonies. Pro tip: for the Sprint planning, ask the team to prepare proposal of the sprint plan before the actual prioritization. That wipes out most of the questions and the session takes roughly 15 minutes, as opposed to 1 hour.
At Mews, the Scrum methodology had been introduced and followed. Therefore, I didn't have to start from scratch. I decided to make my initial additions simple:
On top of that, my ambition is to change the teams' mindset from being busy (output, throughput) to being productive (outcome, focus, goals).
🎯 Bonus stream #3: Mews awareness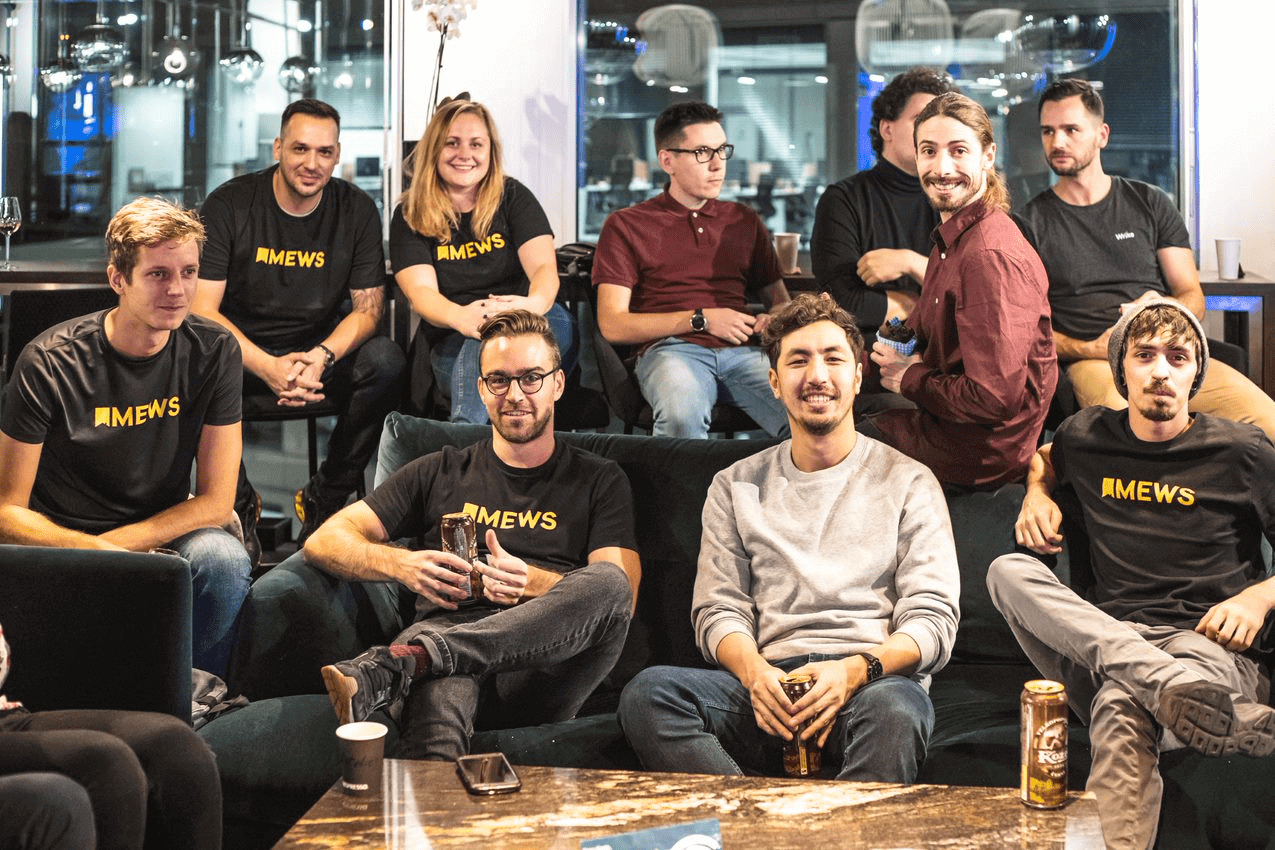 At Mews, we say "Talent attracts talent". Writing blog posts, participating in various meetups, podcasts, or giving university lectures is part of my role.
If truth be told, in my past, I had low hopes writing an article or attending a panel discussion. The beauty is, I found out it makes me more thoughtful about my path, my mission, gets me back on track and strengthens my ambition. It is ultimately a mind hack I hadn't expected to come across.
Enhancing the learning environment is yet another golden nugget. Learn or die. Mentoring more people in how to learn, organize and share their knowledge across the company paid off.
🏆 Moving forward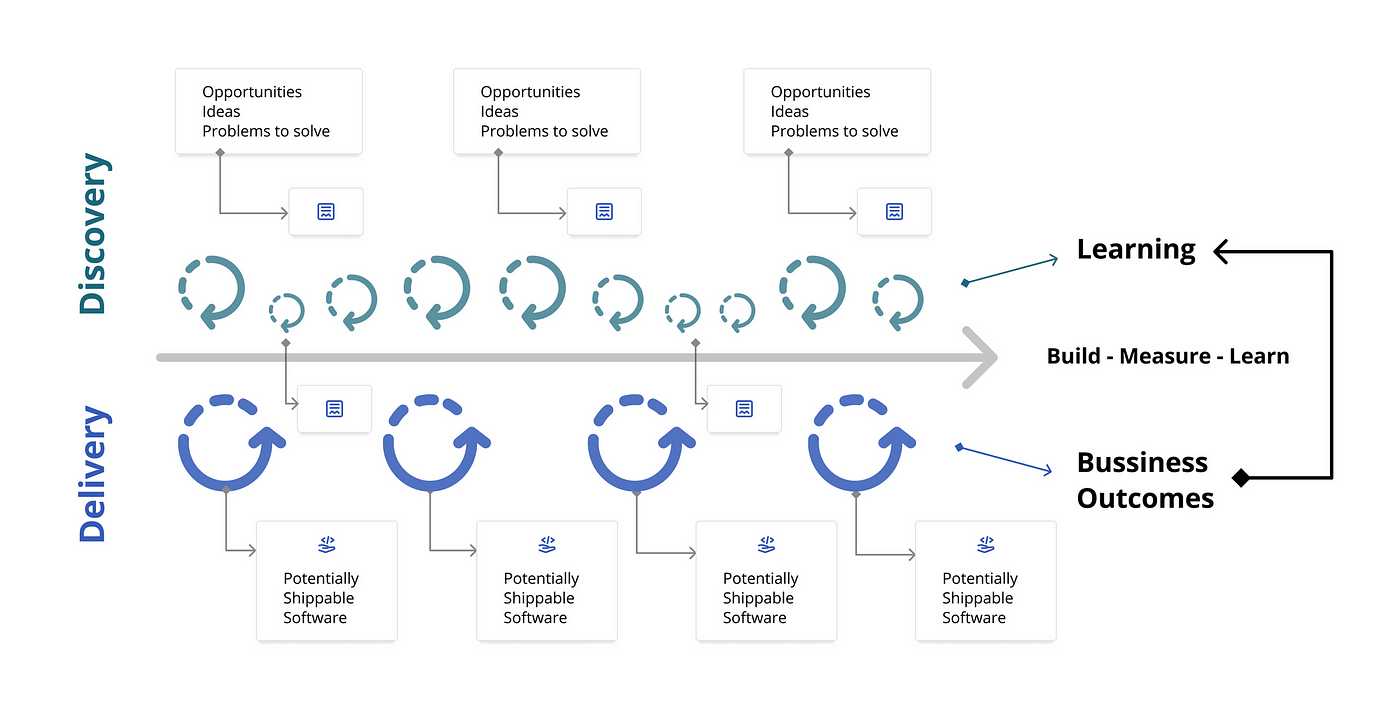 There are many additional streams and ideas on how to help my teams in terms of stability and delivery. During summer 2021, my aim is to focus on the Time to Value aspect, ensuring we have a predictable flow of features and bigger-scope epics, with a fast feedback loop and a minimum of outliers. That comprises both the Discovery and the Delivery streams in Dual track agile.
I strongly believe in lead by example principle. If you want to change the culture or the mindset, providing books and guidelines does not work much. To make people empowered, we have to demonstrate examples all the time by actions, boosting the environment with continuous improvements. Only then, other folks are keen to copy such behavior.
🦄 Summary
I don't mean to say everything turned out 100% successfully. Looking back, I should have changed the sequence of applied improvements or been more strict in some situations. I should have acted and communicated certain changes differently, more individually and thoughtfully. I should have involved the team leads sooner in interviewing. I was hoping to rotate across all the teams on a bi-weekly basis to get to know everyone more personally, grasp more knowledge and provide specific help. I wish I had spent more effort to fine-tune individual teams' ceremonies.
I do see my journey at Mews as a mission. Witnessing the impact is my true satisfaction and my ultimate motivator. I know I contribute practically in building something monumental. Making the Mews teams stable, predictable in delivery and trusted, is what gives us a competitive advantage, a true differentiator that gets us to unicorn scale and beyond.
According to my personal profile, I'm a defender. I'm a healer. I love helping people and stabilizing things. I want to see my teams celebrating success.
Curious about my journey at Mews after 2 years? 😁